Bugs

Hello hello!
So I noticed when you add a ton of people in an owl, it looks like this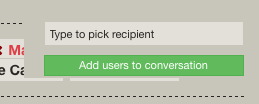 Aka some of the names get blocked behind the "Type to pick recipient" box, not letting me see what names are being blocked. In addition, I sometimes want to remove users in an owl but I am not able to due to the fact that the box is blocking the name(s).
I... think is a bug? Or maybe it's a suggestion. Perhaps have the names go around the box so nothing is blocked.
Please consider this suggestion/fix this bug!
♡Chloe / Selene / Penelope♡